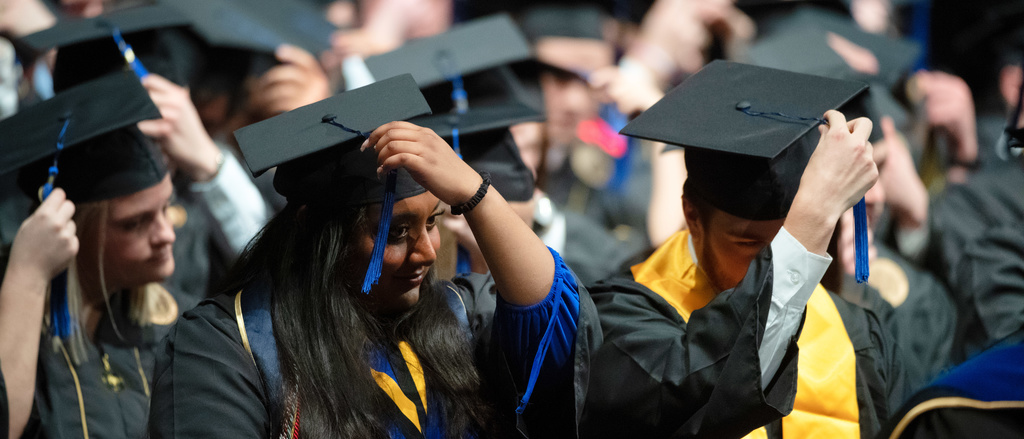 Student Leadership Competencies
At a Glance 
Student leadership competencies are knowledge, values, abilities and behaviors students can help a student engage in a role or task (Seemiller, 2013). Curricular and co-curricular activities are good ways for students to engage in the student leadership competencies. Students can track these activities and consider how they developed competencies by using their engagement record. To view Iowa's eleven competencies in detail, visit the Competencies page.
Incorporation 
While students will have the ability to track and reflect upon experiences and competencies in their engagement record, you can also support the integration of competencies in programs or classes. As you develop future programs and courses, use some of the tips below when considering how you can incorporate the 11 student competencies. 
Mapping: Competencies will be used in various programs across campus. Using shared language will help students understand the skills they are gaining and connect what they are learning in different contexts. 
Naming: Research has shown that explicitly pointing out potential learning opportunities to students is extremely important. "Cueing" students to pay attention can help snap them out of autopilot and get them to intentionally focus on the skills they can acquire. 
Integrating: Competencies can help students make connections across different contexts. Portfolios and capstone experiences can support students in making these connections. Similarly, explicit cues to allow students to reflect on learning experiences can create space for students to make connections between the skills and abilities they have acquired across various curricula and experiences. The goal is to give students the ability to look at a new situation or problem and use prior knowledge and experiences to find a solution. 
Reflecting: Reflection is a critical part of developing competencies as it teaches students to consider how they learn and how different experiences have assisted in their learning. However, reflection is a metacognitive skill and requires practice. Structuring time and space for students to reflect can help them develop this skill. Consider asking students to respond to a prompt or question or having a group discussion at the end of an experience. 
Learn more about incorporating competencies in the Incorporating Competency Guide and with the following resources for specific opportunities:
Assessment 
Assessing the effectiveness of the competencies is an essential part of their integration into the student experience. At the end of an experience, students should perform some self-reflection through a semi-structured assessment. Self-evaluations can be helpful, as can writing prompts or discussion questions. Consider using some of the following questions when helping students assess their learning and development. 
What skills do you think you will develop as a result of participating in this [experience]?  
Write about a skill that you have developed as a result of this [experience].  
What does it look like to effectively utilize [competency]? 
When have you used [competency] inside and outside the classroom?  
What have you learned here [in this experience] about [competency] that you think might be helpful in your [academic courses, co-curricular involvement, job, future career]?  
How might you continue to develop [competency] in the future?  
What challenges have you experienced developing [competency]?  
How would you describe your skills in [competency] on your resume or during a job interview?
Research 
Dr. Corey Seemiller developed student leadership competencies from analysis of more than 605 accredited academic programs in higher education. As a result of her studies, Seemiller developed 60 essential leadership competencies for the 21st century (2013). 
Student leadership competencies can be used to help develop programs, courses and experiences that are more meaningful and helpful for students, as well as create cross-curricular connections for students. The competencies can also be a useful tool for educators or supervisors to assess the learning and development of students and to encourage students to self-reflect and learn to apply the knowledge, values, abilities and behaviors they have learned in future contexts.